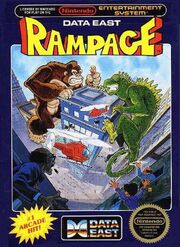 Rampage (1986) is the first game in the Rampage video game series.
It has been released on quite a number of systems. The three monsters that appear in Rampage are George the gorilla, Lizzie the dinosaur, and Ralph the Wolf.
Rampage is a game where players control giant monsters/mutated humans developed by Midway. Players must smash buildings while destroying vehicles such as tanks, planes, and trains to advance to the next level. Smashing windows will sometimes reveals items of interest that the player may use. Warner Bros. currently owns all rights to the property.
Up to three simultaneous players control gigantic monsters who were formerly human. The game's protagonists are George, a King Kong-like gigantic gorilla transformed by an experimental vitamin, Lizzie, a Godzilla-like dinosaur/lizard transformed by a radioactive lake, and Ralph, a giant werewolf transformed by a food additive. As monsters, they need to raze all buildings in a high-rise city to advance to the next level, eating people and destroying helicopters, tanks, taxis, police cars, boats, and trolleys along the way.
The monsters can climb the buildings, punching them to pieces on the way down which will eventually reduce them to rubble. The various people can also be punched or grabbed and food items can be eaten. The player's monster receives damage from enemy bullets, sticks of dynamite, shells, punches from other monsters and falls. Damage is recovered by eating the various food items such as fruit, roast chicken, or even the soldiers. If a monster takes too much damage, it reverts into a naked human and starts walking off the screen sideways, covering its modesty with its hands (and in this state, can be eaten by another monster). If the player continues, the human mutates back into the monster or (if the human walked off the screen) flies in on a blimp (but has lost their score), with a full life bar.
Smashing open windows generally reveals an item or person of interest, which may be helpful or harmful. Helpful items include food or money, whilst dangerous ones include bombs, electrical appliances, and cigarettes. Some items can be both; for example, a toaster is dangerous until the toast pops up, and a photographer must be eaten quickly before he dazzles the player's monster with his flash, causing it to fall. When a civilian is present waving their hands at a window signaling for help, a player's points rapidly increase when the person is grabbed. Each monster can hold only one type of person: George can hold women, Lizzy can hold middle-aged men, and Ralph can hold businessmen.
Rampage is set over the course of 128 days in cities across North America. The game starts in Peoria, Illinois and ends in Plano, Illinois. In Plano, players receive a "mega vitamin bonus" which heals all the monsters and provides a large point bonus. After this, the cycle of cities repeats five times. After 768 days, the game resets back to Day 1.
Some of the home port versions of the game start in San Jose, California and end in Los Angeles, California after going all around North America. The rampage travels through two Canadian provinces and forty-three U.S. states. Only Connecticut, Delaware, Mississippi, New Hampshire, Rhode Island, South Carolina, and Vermont are spared.
Originally released for the arcades in 1986, Rampage was ported to most home computers and video game consoles of its time, including the Atari 2600, Atari 7800, Atari Lynx, Atari 8-bit, Atari ST, Commodore 64, MS-DOS/IBM PC, ZX Spectrum, Amstrad CPC, NES, and Sega Master System. The Atari Lynx version adds a special fourth character named Larry, a giant rat. The NES version excludes Ralph, reducing the number of monsters to two. Rampage was included as part of the Arcade Party Pak for the PlayStation in 1999. In 2003 Rampage was included in Midway Arcade Treasures, a compilation of arcade games for the Nintendo GameCube, PlayStation 2, and Xbox and in 2005 in Midway Arcade Treasures: Extended Play for the PlayStation Portable. In 2012, Rampage was included in the compilation Midway Arcade Origins. It also was unlockable in Lego Dimensions, and George appeared in the Midway Arcade world. This game is also available as a bonus feature in Rampage: Total Destruction. Tiger Electronics released a handheld LCD version of the game in the 1990s.
In July 2000, Midway licensed Rampage, along with other Williams Electronics games, to Shockwave for use in an online applet to demonstrate the power of the shockwave web content platform, entitled Shockwave Arcade Collection. The conversion was created by Digital Eclipse. Rampage was also ported to iOS as part of the Midway arcade app.
Unlike the original arcade game, most of the home ports (such as the NES, Sega, and Atari Lynx versions) actually end, rather than repeating levels endlessly. The Amstrad CPC port (published by Activision) has in-game music ripped from the basement level of the arcade game Trojan, though Trojan was never ported to the Amstrad, a finished version was completed for the ZX Spectrum by Clive Townsend and was to be published by Elite Systems, but was never officially released.
Reception
Edit
Computer Gaming World approved of the DOS adaptation of Rampage, especially for those with computers faster than the original IBM PC and an EGA video card. It stated that "Rampage is proof that IBM games can compete with other machines in running entertainment software".
About a decade later, a remake was released entitled Rampage: World Tour, later followed by console-exclusive games including Rampage 2: Universal Tour, Rampage Through Time, and Rampage: Puzzle Attack. The latest game in the series is Rampage: Total Destruction.
There was a port in the 2015's game Lego dimensions and in one of the cutscenes of the Midway Arcade level pack level "retro wreckage" the gamer kid was transformed into one of the monsters, George the gorilla.
Film adaptation
Edit
On November 18, 2011 it was announced that a theatrical film adaptation based on the game is in tentative development by New Line Cinema with John Rickard set to direct. On June 22, 2015 it was announced that actor Dwayne Johnson and producer Beau Flynn were attached to the project. On July 22, 2015 it was announced that San Andreas director Brad Peyton will direct the film and the movie will be in theaters in 2017. On November 14 2016, two petitions were made to allow the bands Amon Amarth and Judas Priest to guest star in the film.
↑ https://www.change.org/p/brad-peyton-and-new-line-cinemas-have-amon-amarth-and-judas-priest-guest-star-in-the-rampage-movie
Community content is available under
CC-BY-SA
unless otherwise noted.